Rent a Charter Bus from Reading Charter Bus Company
If you need group transportation in Reading, Pennsylvania, book a charter bus or minibus rental from Reading Charter Bus Company. Our network of bus providers grants us access to a wide variety of bus types, so no matter the size or needs of your group, we have the transportation solution you need. Call us at 215-764-5467 to speak with a reservation specialist about your next group trip in Reading and to arrange a charter bus rental.
Call Now for a Free Quote
215-764-5467
Agents available 24/7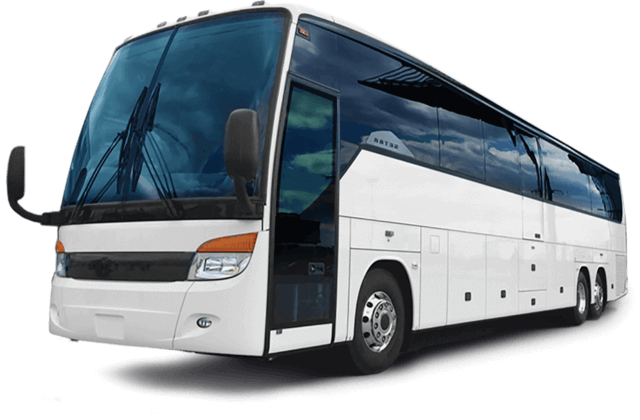 About Reading Charter Bus Company
READING, PENNSYLVANIA
Reading Charter Bus Company provides charter bus rentals and group transportation services in Reading and the Philadelphia area. No matter the size of your group or the type of trip, we can provide you with a bus rental that comfortably accommodates passengers while on the road. Choose from models like the 56-passenger charter bus rental and the 20-passenger minibus, depending on the size and needs of your group. Plus, you can enjoy premium amenities like onboard restrooms, free WiFi, power outlets, reclining seats, and TVs with a DVD player. Simply call us at 215-764-5467 to speak with a reservation representative and request your ideal charter bus rental today.
Reading Charter Bus and Minibus Rentals
About an hour outside of Philadelphia, this southern Pennsylvania city is known for its outdoor adventures, educational museums, and one-of-a-kind destinations. Plan a trip to see what puts Reading on the map, such as the mountaintop Reading Pagoda with sweeping views of the city, and the Koziar's Christmas Village, a holiday season attraction with one of the largest light displays in the state. A charter bus rental is the best way for a Reading group to get around town, all together and according to a private itinerary. You can rely on a professional, experienced driver to navigate the roads, and instead focus on enjoying your time in Reading.
Wedding Shuttle Bus Rentals in Reading
If you're hosting a wedding in Reading, then you'll want wedding shuttle bus service to be the finishing touch on your perfect plans. Whether you're celebrating your marriage at The Barn at Flying Hills or Stokesay Castle & The Knight's Pub, a shuttle service can ensure guests travel from the hotel to the event venue all together and on time. You can also book shuttle bus service for wedding-related events, like bachelor and bachelorette parties in town or to Philadelphia. Comfortably rely on a professional driver to transport you and your guests while you celebrate on board with a bottle of champagne!
Reading Corporate Event Shuttle Bus Transportation
Are you in charge of arranging transportation for your Reading company's annual team-building event? Need to travel with the work team to Philadelphia for a conference at the Pennsylvania Convention Center? Book a corporate charter bus rental to transport everyone together for the trip. Employees will be grateful to skip the need to book a rideshare or request travel reimbursement, and instead, ride stress-free and comfortably with their colleagues. A charter bus is also the best transportation solution for being productive while on the road. If you're traveling to an important meeting with a client or need to give a presentation at a conference, you can use onboard WiFi to read emails and review notes, and keep your devices charged with the power outlets and USB ports in every row of seats.
School Field Trip Bus Rentals in Reading
Planning a field trip in Reading? Book a charter bus rental for a school trip to one of Reading's many museums or educational centers. Destinations like the Mid-Atlantic Air Museum, the Reading Public Museum, and the Pennsylvania German Cultural Heritage Center are great local museums that students of all ages can enjoy. Plus, when you book a private charter bus for the trip, the journey can be just as exciting as the destination for kids.
Unlike a traditional yellow school bus, a charter bus rental can include amenities designed for comfort and fun while on the road. Young passengers will enjoy connecting to a free WiFi hotspot to share TikToks, watch movies on the TV screens with a DVD player, and sightseeing out of wide, panoramic windows. Chaperones will have a lot to look forward to as well, and can enjoy reclining seats, air-conditioning, and the services of a professional driver at the wheel.
Charter Bus Transportation for Reading Sports Teams
If you're planning a trip for a group of Reading athletes, consider booking a sports team charter bus rental. Charter bus rentals are the perfect solution for sports teams who need to travel all together to away games, tournaments, and team-building events. You can book a spacious vehicle that has plenty of space for athletes to stretch out and relax on the road while storing all of their belongings and sporting equipment safely away. A full-size charter bus model has a large, undercarriage storage bay that can hold items like baseball bags, football gear, hockey sticks, and anything else that needs to be safely stowed while traveling.
You can also book a private charter bus if you need transportation for a group of fans to a professional game. In summertime, the Reading Fightin Phils—a AA affiliate of the Philadelphia Phillies—play at FirstEnergy Stadium, while in the winter, the Reading Royals (an affiliate of the Philadelphia Flyers) play at Santander Arena. Book a private bus with us to rely on a professional driver, beat game day traffic, and skip crowded parking lots when you have tickets to a local sporting event in Reading.
Book Your Reading Charter Bus Today
Ready to rent your Reading charter bus? Call 215-764-5467 today and we'll help you get started. Our team is available 24/7 to take your call, answer any questions, and book your charter bus rental in Reading.