Rent a Charter Bus from Allentown Charter Bus Company
When you're looking to book a dependable minibus or charter bus rental in Allentown, Pennsylvania, let Allentown Charter Bus Company be at your service. From compact shuttle bus rentals to full-size motorcoaches, we can accommodate all different sizes of groups who are traveling for various reasons. Whether you're planning a cross-country road trip or private event, call us at 215-764-5467 to speak with a reservation specialist and arrange your group transportation in Allentown today.
Call Now for a Free Quote
215-764-5467
Agents available 24/7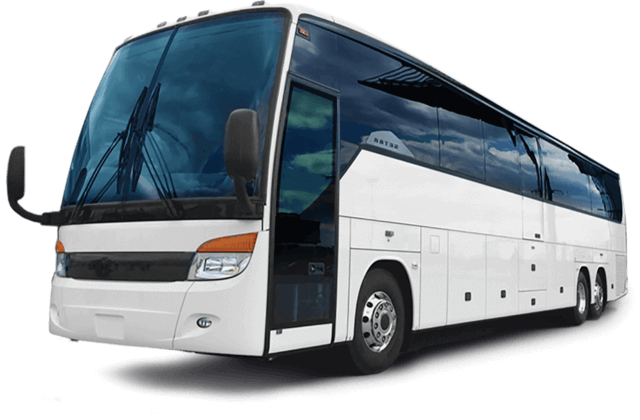 About Allentown Charter Bus Company
ALLENTOWN, PENNSYLVANIA
Allentown Charter Bus Company provides comfortable and reliable group transportation services in the Allentown and Philadelphia areas. We can help you with all types of transportation requests, including field trips, corporate travel, sporting events, and more.
When you call us at 215-764-5467, we'll help you choose the best type of bus rental for your particular group. Need an 18-passenger minibus for a quick airport pick-up or drop-off? Or maybe a large 56-passenger bus rental to bring a whole group of students to see The Liberty Bell? No matter what, we've got the transportation you need—complete with premium amenities, too. Rent a bus model that comes with an onboard restroom, WiFi hotspot, power outlets, reclining seats, and more to make your ride comfortable and enjoyable.
Allentown Charter Bus and Minibus Rentals
Located about an hour north of Philadelphia, Allentown is abundant with group trip destinations and ideas. You can book a bus to visit The Liberty Bell Museum, the Allentown Art Museum, and the American On Wheels Museum. Want to take a group out for a ballgame? Plan a trip with a sports team or group of fans to Coca-Cola Park to watch the IronPigs Minor League Baseball Team in action. No matter where you're headed and why, count on a charter bus rental from Allentown Charter Bus Company.
Wedding Shuttle Bus Rentals in Allentown
Weddings in Allentown will go off without a hitch when you call Allentown Charter Bus Company for your group transportation needs. Book a fleet of wedding shuttles to transport your guests all together and on time to Allentown event venues like Vault 634, The Historic Benner Mansion Bed & Breakfast, and Fegley's Allentown Brew Works. You can arrange a private service on your own event timeline, and organize shuttle pick-ups and drop-offs from the hotel to the ceremony and reception venues, and anywhere else in between. Plus, you can rest easy knowing your guests are in safe hands. A professional, licensed driver is at the wheel of every bus rented with us.
Allentown Corporate Event Transportation
Whether you're planning a corporate outing to celebrate a big win, or need to travel with the team to Philadelphia for an important client meeting or conference at the Pennsylvania Convention Center, let us pair you with a corporate charter bus rental for the trip. A private charter bus is the perfect mode of transportation for traveling professionals because it can come equipped with a plethora of productive amenities. Corporate passengers can use a WiFi hotspot to check emails, power outlets to charge electronic devices, and reclining seats to stay comfortable while en route to their destination.
School Field Trip Bus Rentals in Allentown
Book a charter bus for your next school field trip in Allentown and enjoy many features that a traditional yellow school bus can't provide. Young passengers can use seatbelts, connect to WiFi, and stay entertained when you use the onboard TV screens with a DVD player. A private charter bus is an ideal alternative, especially if you're traveling beyond Allentown to spend an educational day in Philadelphia. Book a charter bus and enjoy a comfortable, dependable bus ride to Philly to visit destinations like The Franklin Institute and the Independence Seaport Museum.
Allentown Sporting Event Group Transportation
From carting sports fans to the city for Eagles and Phillies games to transporting student athletes for a state tournament, an Allentown charter bus is the perfect choice for traveling to a sporting event. With a charter bus for a sporting event, you can easily fit the entire team or group of fans aboard one vehicle, and have plenty of storage space for game day essentials, too. Book a bus with overhead compartments and an undercarriage luggage bay to hold belongings like drink coolers and sporting equipment.
Book Your Charter Bus in Allentown Today
Ready to rent your Allentown charter bus? Call 215-764-5467 today and tell us all about the group trip you're planning. We're available 24/7 to take your call and help you reserve a charter bus rental.